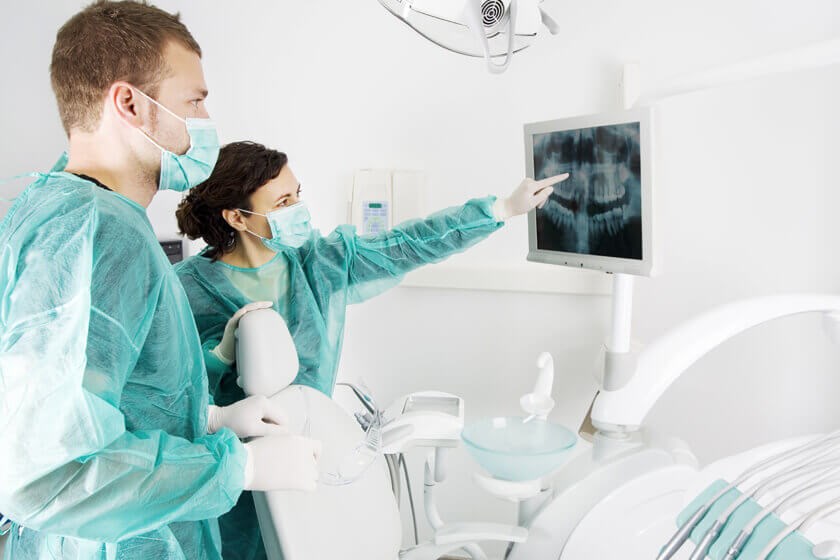 Men and women who are missing one or two teeth are in good company: Some patients in High Point, NC might end up developing dental health issues that can result in loose or missing teeth. In fact, a reported 178 million U. S. citizens have undergone the loss of one tooth or more. Missing as few as one of the natural teeth brings about negative outcomes that often impact your oral health and self-worth. Once teeth are pulled due to harm from serious decay, jawbone weakening, or other dental issues, filling the empty space as soon as possible will lead to the ideal situation regarding your teeth and oral health. Dental implants are currently a preferred technique for replacing permanent teeth thanks to their enduring health and visual benefits. Our dental care providers at DentalWorks - High Point have years of technical training with dental implant options. Our team will help you learn about the ideal tooth replacement technique for your unique concerns and visual aspirations and whether or not dental implants are the best direction for your dental wellness.
THE IDEAL SOLUTION FOR RESTORING TEETH
Praised for their impressively natural-looking structure, dental implants are not like most other tooth replacement methods available these days. Implant dentistry provides a wide range of tooth replacement services and could address any number of teeth, from a single lost tooth to a whole arch. Those who are looking to switch from old-fashioned tooth replacements to a longer-term solution could be good candidates to receive this preferred service. A majority of patients are choosing implant-based solutions to bring function, improved health, and visual allure back to their smiles. Implants look, feel, and work comparably to natural teeth. With features that closely emulate those of actual teeth, it's unsurprising that dental implants are hailed as the ideal method in tooth substitution.
THE WAY DENTAL IMPLANTS FUNCTION
The specific design of implants echoes the structure of actual teeth. Implants utilize medical-grade metal posts that function as a synthetic tooth root, as well as real-looking crowns that restore adequate shape and functional capabilities to the smile after the loss of teeth. Over an interval of 3 – 6 months, implant-supported restorations go through an osseointegration period in which they integrate with the bone and become a fixed component of the mouth. Implants merge with the jawbone to take the place of a tooth root for long-term stability and unmatched support.
DENTAL IMPLANTS OFFER PROLONGED RESULTS
In regard to to restoring missing teeth, the majority of individuals desire a solution that provides long-term outcomes. Fixed implants are the only tooth replacement solution that bonds with the bone, emulating natural tooth roots. This process of osseointegration produces a solid foundation that enables dental dentures to remain in the mouth. The metal posts are impervious to deterioration and don't need to be replaced, which means a person should benefit from a healthy smile for far into the future. When dental implants are placed by a thoroughly trained dentist who makes use of modern methods, this solution has an incredibly high success rate.
SEE A NUMBER OF AESTHETIC ADVANTAGES
An appealing aspect of dental implants is the realistic cosmetic qualities this tooth replacement solution brings to people. Our team at DentalWorks - High Point creates individualized implant-supported solutions that vary in shape, size, and whiteness to blend flawlessly with nearby teeth. Implant-supported crowns and dentures resemble and seem like natural teeth and are virtually identical to real ones. Fixed restorations can also help men and women have a normal face contour as well as protect against the facial sagging that commonly occurs if teeth are gone. Individual dental implants with crowns substitute single missing teeth, while fixed bridges and dentures are placed to manage an entire arch of teeth. In fact, people should know that even a whole upper or lower region of lost teeth can be effectively replaced with a beautiful, full-arch denture.
IMPLANT-SUPPORTED SOLUTIONS COULD BOOST YOUR ENJOYMENT FROM LIFE
Selecting dental implants for tooth replacement might provide a range of enhancements to general way of life, particularly for men and women who have been putting up with lost teeth or have had deteriorating teeth for some time. Since the titanium posts are placed securely within the bone, dental implants offer a notably consistent biting power. Fixed dentures, crowns, and bridges cannot change placement, become loose, make noise, or slide. They also don't need glue to stay in place. Because dental implants are kept in their position with a sturdy metal screw within the jawbone, these restorations can allow people to bite, chew, and carry on conversation normally. Those who opt for this option could enjoy their most-treasured meals and smile with a renewed feeling of confidence and not have to be concerned with the state of their overall wellness.
COULD I BE A SUITABLE CANDIDATE TO GET DENTAL IMPLANTS?
Implants are a trusted answer for individuals wanting to gain back their smile, quality of life, and oral health following the loss of natural teeth. Implants are custom-made to reestablish the beauty and strength of the smile. While ideal for several patients, dental implants always demand adequate jawbone support and healthy gums to work. If bone deterioration and other conditions are hindering you from being considered a potential candidate for fixed implant restorations, our team can suggest certain operations to enhance the quality of your dental/oral wellness and promote an environment to encourage favorable outcomes.
When your overall health has been affected by lost teeth, dental implants may be a great treatment for tooth replacement. Our staff at DentalWorks - High Point is able to address your personal problems and assist you in determining if implants might be the answer to your oral health. We encourage you to get in touch with our High Point, NC practice as soon as possible so you can set out on the journey toward enjoying an enhanced life.