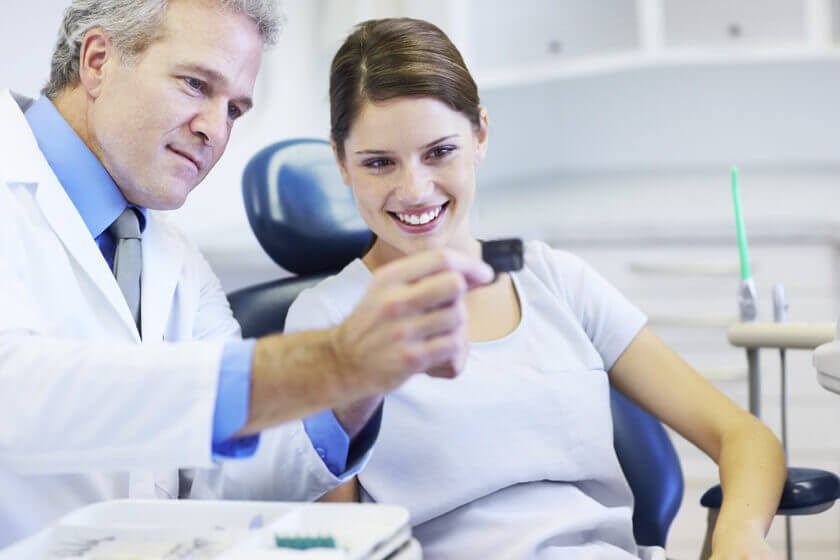 Being able to enjoy a well-maintained smile is certainly a privilege the majority of individuals want for everyone in their family. Although visiting the dentist may not be most people's favorite pastime, preserving the condition of your family's mouths with the help of a capable general dentist is essential for your total health. Recent advancements in the oral care industry, as well as how patients now get treatment, have made it less complicated than ever to ensure that your teeth are in decent health. Our general dentistry staff at DentalWorks - High Point asks you to find out the benefits you can get when you trust a general dentist to help you gain an enduring, strong smile.

GUARANTEEING THAT YOUR DENTAL WELLNESS STAYS IN THE BEST CONDITION
Reminiscent of a primary care physician for overall health, a general care dentist is vital to help you achieve and keep a clean, attractive smile. Our general care dental practitioners perform a vast catalog of procedures to address dental issues, keep up the quality of your enamel and gums, as well as boost the full visual quality of your mouth. To restore your oral wellbeing and keep your oral structures in great condition, our primary care dentists can work with different specialists if specific issues arise.

IT IS IMPORTANT TO GO TO A GENERAL DENTAL PRACTITIONER TWICE A YEAR
Seeing a general dentist to receive preventive care and services for various other oral issues is necessary for having a good chance to have a healthy mouth. Our High Point, NC dentists and their team are happy to perform a vast catalog of comprehensive oral services and rank your family's smiles as our principal priority. Seeing our dental family will give you the chance to benefit from the highest caliber of oral wellness, as you'll have access to primary care dentistry procedures that include:

Annual oral evaluations are an essential aspect of comprehensive care.
Regular dental exams allow us to have a detailed view of your gum tissue, teeth, bite, jaw joints, and the other oral structures that play a role in a healthy smile. At your visits, oral cancer reviews are also performed to identify any areas that could be dangerous as early as possible. Dental x-rays are administered so our team can examine your jawbone health, tooth alignment, fillings, and different restorations, as well as look for decay between the teeth. Attending once-yearly dental evaluations provides the extra advantage of being ahead of any possible oral concerns and treating them before they produce a negative effect on your smile and wellness.

Twice-yearly dental cleanings keep your mouth free of plaque and food particles.
When you schedule checkups at DentalWorks - High Point twice a year for thorough dental cleanings, you may minimize the accumulation of debris, harmful bacteria, and discoloration and take delight in the benefits of a luminous, clean smile. Teeth cleanings incorporate plaque and buildup removal, deep cleaning the enamel, and flossing between them for a smooth look. Customized oral health tips are also discussed to help you attain a hygienic mouth between dental visits.

Advanced treatment is necessary to treat broken or missing teeth.
General dentistry equally helps in addressing a number of areas of oral health. Deteriorating or broken teeth are renewed by our comprehensive care dental practitioners to improve their structure and performance using procedures like fillings, dental crowns, or partial crowns. Bridges, dentures, and dental implants as restorative treatments give renewed feeling, function, and beauty back into your smile when one or more teeth are lost.

Our staff provides comprehensive services for every relative in your household.
Building a connection with our High Point, NC primary care dentists may help ensure that every member of your household receives the best possible treatment when it's necessary. In addition to preventive and restorative treatments, family dentistry provides your loved ones a wide assortment of procedures to meet your fundamental dental needs. Many of these procedures involve options for periodontal disease, sealants, and fluoride applications to shield your teeth from decay, along with athletic mouthguards to keep you and your family's smiles in check when participating in outdoor activities.

Modern procedures for complicated dental issues.
For some situations, getting all-encompassing oral treatment involves services like endodontic therapy, bruxism treatment, orthodontics, and wisdom tooth removals. Our general dental professionals are the doctors to trust when oral emergencies place your dental health at risk. Though DentalWorks - High Point aims to produce an easy atmosphere for all patients, anesthetic solutions may also be provided to make going to your dental practitioner a smoother experience.

PROMPT CARE PROMOTES BETTER WELLNESS
Cleaning and flossing your teeth each day are essential to keep your gum tissue, enamel, and different oral structures in their greatest health, but at-home dental hygiene is only a small aspect of what it takes to maintain extraordinary dental wellness. Receiving high-quality oral treatment from a knowledgeable staff in High Point, NC who are dedicated to your and your family's smiles may make diagnosing and resolving oral problems sooner. Doing this could save you from more intense treatment needs and expenses later on. Gum disease, for example, has been proven to affect various aspects of systemic wellness by increasing the risks and seriousness of conditions like diabetes mellitus, cardiovascular disease, and memory loss. Getting the dental treatment you require can improve your oral wellness and smile in the long run.

A PRIMARY CARE DENTIST IS YOUR GREATEST ASSET FOR GOOD ORAL TREATMENT
Going to a primary care dental professional you can rely on to help your family's oral health is essential and comparable to choosing the right family practitioner. From regular dental one-on-ones to more expansive alternatives, general dentistry is definitely required to receive a bright, clean smile. At DentalWorks - High Point, our professional team has years of training in comprehensive dentistry and is prepared to help you and your family achieve a bright future filled with hygienic smiles. If you're considering a trained primary care dentist, talk to someone at our facility today and arrange your one-on-one.