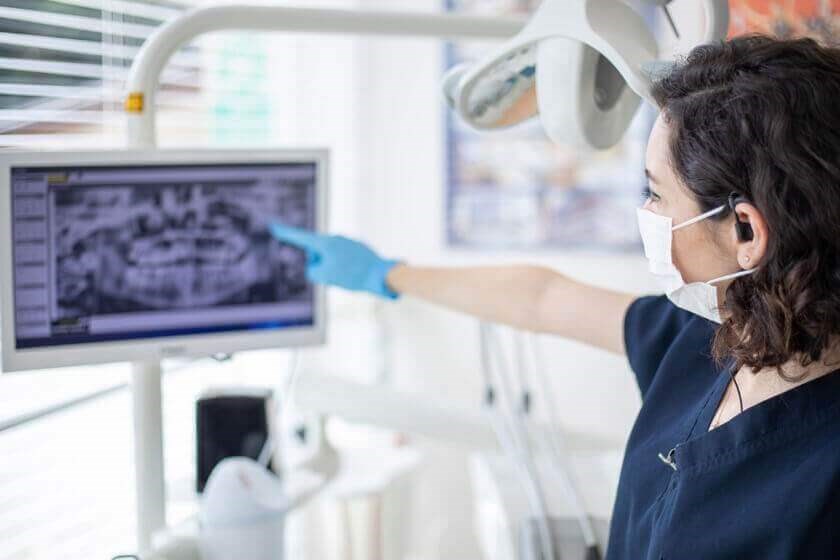 GET TO KNOW THE BENEFITS OF DENTAL IMPLANTS
Every so often, our patients are unclear on the purpose of dental implants (sometimes called implant-supported restorations). If your dentist suggests that a dental implant is the optimal option for replacing a severely damaged tooth, you may wonder how dental implants work and how they might improve your smile. Dental implants are a long-term solution to missing teeth. Implant-supported restorations are a fantastic alternative to restorative treatments (such as dentures) and have multiple advantages that can make them an intelligent choice for many men and women in High Point, NC. Our skilled team of experienced dental professionals at DentalWorks - High Point uses dental implants to help individuals who are missing one or several teeth. These implants have done more than restore people's oral health; patients are amazed at the way implant-supported restorations provide natural-looking results and give them back their smile.
HOW DENTAL IMPLANTS WORK
Not long ago, if you needed replacements for one or more teeth, your only options to replace them were removable bridges or dentures. While these can restore the appearance and function of your teeth, traditional dentures and bridges both require more care and, in some cases, can become ill fitting due to bone loss in your gums and jawbone. This bone loss stems from the lack of stimulation from the tooth root, which dies without its tooth. A dental implant is a metal post set into the gums and jaw to act as the tooth's missing root. Once the post has integrated with the bone, a specially designed device called a gum abutment can be applied the post. This allows your periodontist in High Point, NC to replace your missing tooth or teeth with the custom-made, implant-supported crown. He or she can also replace more than one tooth with an implant-supported bridge or partial dentures. Patients who want to have all of their teeth replaced can receive a full arch of teeth with implant-supported dentures. Unlike standard restorations, implant-supported restorations can be used the same way as natural teeth, meaning you don't have food restrictions and/or unusual cleaning instructions.
THE MAJOR BENEFITS OF HAVING DENTAL IMPLANTS
You might still choose a conventional bridge or dentures, but they may not provide you with the best outcome in the long run. There are several advantages to selecting dental implants, including:
LONGEVITY
Dental implants are made to last for a long time. As long as you maintain proper oral hygiene and see your dentist in High Point, NC for annual examinations and cleanings, your implant-supported restoration can last for many years. During your annual dental exam, your dentist will examine the fit and wear of your restoration to learn if it needs to be adjusted, repaired, or replaced.
NO EFFECT ON SURROUNDING TEETH
Dental implants operate like your natural teeth. You won't have to worry about them harming adjacent teeth. Other dental restorations can require surrounding teeth to be filed down, but this is not the case for prepping the area for dental implants. You can rest assured that the adjacent teeth will remain healthy and intact.
DURABILITY
DentalWorks - High Point uses restorations, such as bridges, dentures, or crowns that are custom made from high-quality materials. The metal post implanted in your jawbone is made out of titanium, a material that cannot degrade. Dental implants allow you to eat whatever foods you choose without having to worry about damaging your new restoration.
NATURAL LOOKING
One of the biggest concerns that patients have in reference to any dental restoration is if the results will appear natural. A great thing about implant-supported restorations is that they blend in with the color and shape of your other teeth if they are made from high-quality materials by experts in a dental laboratory. The results will be so natural looking that your friends and family won't be able to tell which are your own teeth and which are restorations (unless you decide to tell them).
COST
The price of dental implants may seem high compared to other options, such as bridges or dentures; however, implants are often less expensive in the long run. Oftentimes, bridges and dentures need to be adjusted and/or replaced, so the expenses can add up quickly. That doesn't even include the cost of adhesives (for ill-fitting dentures) and tablets for overnight soaking. Dental implants are made from a durable material and built to last a long time.
NO DISCOMFORT
While standard restorations (such as, crowns, bridges, and dentures) often start to feel loose over time, a good dentist should make sure that your implanted post is fully anchored before they will attach your custom restoration. The post needs a few months to integrate with your jawbone and gums, but once it does, it gives a great foundation for the attached restoration. If you do feel any looseness, schedule an appointment with your dentist in High Point, NC to have your restoration adjusted.
NO SPECIAL CLEANING REQUIREMENTS
Unlike other restoration] types (for example, dentures), dental implants are taken care of and cleaned just like your natural teeth. They don't need to be soaked overnight, and you won't be required to deal with denture glue in the morning. You don't need to follow any special cleaning routine for the implant. Patients should continue to brush and floss on a regular basis to prolong the life span of the implant. While the medical-grade materials used to make your restoration are more stain resistant compared to your natural enamel, they can become discolored, so make certain to brush after having dark-colored foods and drinks like coffee, red wine, and berries.
AN ENHANCED LEVEL OF CONFIDENCE
A person's confidence and self-esteem could take a hit if they knew others were judging them because of having missing teeth. Dental implants can allow these insecurities to be things of the past. You will likely find yourself smiling more, laughing more freely, and participating in conversations without hesitation once you've gotten used to your implant-supported restoration.
HOW CAN I SCHEDULE AN ASSESSMENT?
If dental implants sound like something you are interested in learning more about, we invite you to contact our team at DentalWorks - High Point to schedule an appointment. Our office in High Point, NC has the experience necessary to transform your smile into one you will want to share with the world. Our team will walk you through the process and create a customized treatment program to achieve your most brilliant smile. You'll be able to eat, laugh, and speak with more confidence when the dental implants restore your smile. Contact us today to see why so many patients in High Point, NC can't stop smiling after visiting our office.