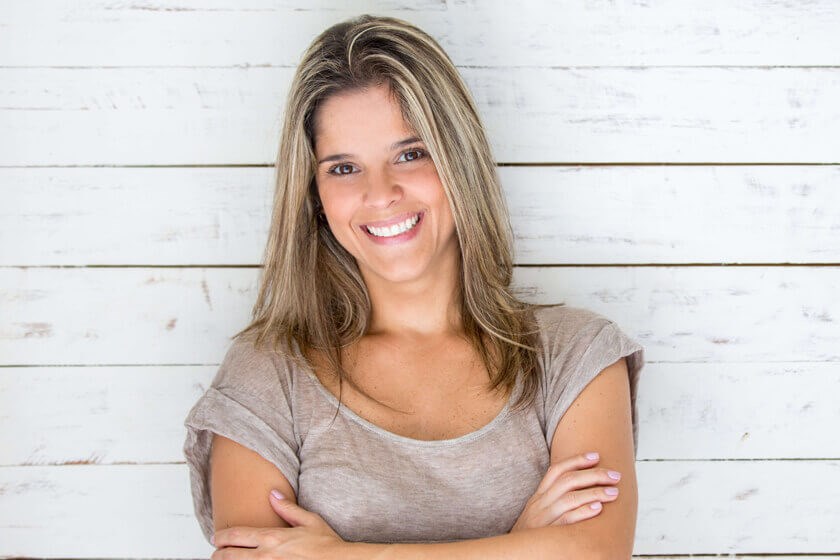 Commonly referred to as a cap, a dental crown can be used to treat a significant area of decay, support a fragile tooth, restore a cracked tooth, or mask a stained tooth. Created to fit over the desired tooth and custom colored to match the adjacent teeth to create a consistent look, a dental crown protects and improves functionality to damaged teeth. The dental professionals of DentalWorks - High Point offer several different methods for crowns to best suit the concerns of men and women in High Point, NC.
At your consultation with an experienced staff member of the DentalWorks - High Point team, we will discuss the multiple crown material options with you in order to pick the best material that sticks with your dental needs, smile goals, and expenses. If you desire to learn more concerning the different types of crowns and how they can improve your teeth, then continue below for more detailed information.
IDEAL CANDIDATES FOR A DENTAL CROWN:
A dentist can provide a dental crown as a solution for various reasons, such as:
To allow for the preservation of a weak, decaying tooth as a way to diminish future dental issues
If an area of decay is too big to hold a traditional filling
To operate as a foundation to help keep dental bridges in place
Used cosmetically to hide discolored or misaligned teeth
To create a support system for loose or broken teeth
To restore a tooth's purpose and aesthetics following a root canal treatment
To cover a cracked tooth, defending it from uncovered nerves, which could result in extreme sensitivity and pain
CATEGORIES OF DENTAL CROWNS
Contingent on the patient's needs, tooth location, and wants, crowns are made from a variety of materials. Though a number of crowns can last for around 15 years, some are merely a short-lived fix.
Temporary: A temporary crown is made from acrylic or stainless steel and is commonly produced in the dental professional's practice for quicker protectioncompared to a permanent crown made in a dental laboratory.
Metal: A metal crown is typically created using stainless steel or a number of other metals that are individualized for the patient's required needs.
Porcelain over Metal: This crown is ideal for protecting forward or back teeth and improves the resilience of metal to a bridge. The porcelain material allows the dentist to specifically match the existing enamel of neighboring teeth for a seamless appearance.
Ceramic or Porcelain: Considered the optimal aesthetic pick, this dental crown features a color-match unsurpassed by any other material. Ceramic or porcelain crowns are usually used on the forward teeth and matched to the shape, color, and size of the individual's existing teeth. This substance is also ideal for those who havewho suffer from] allergies to metal.
HOW IT WORKS
The primary step for individuals in High Point, NC to receive a dental crown is to talk with a dental professional at DentalWorks - High Point during a consultation. At this appointment, impressions of your teeth will be obtained, which ensures the custom fit of your restoration. At the time when your crown is complete, the treatment area will be thoroughly numbed with a local anesthetic before the natural tooth may be readied to assure the crown's fit. Further impressions are needed to evaluate the ideal fit and bite prior to it being secured of the crown atop the natural tooth or fixed to a dental implant. The correct shape of a crown allows for long-term stability. The overall treatment can take several weeks to complete, as crowns will be sent to a dental laboratory for creation. If necessary, a temporary crown might be recommended.
AFTER-CARE
Once the anesthesia has worn off, normal daily tasks may be continued. The dental team at DentalWorks - High Point will give proper after-care instructions that are crucial to follow for a good recovery and restoration. We will discuss with you the ideal method to care for your crown, including certain foods to avoid. For individuals who grind their teeth or clench their jaws, a night guard may be recommended to preserve your crown. It is crucial to attend your yearly dental exams at DentalWorks - High Point in order to ensure optimal oral health in the future. Routine daily brushing and flossing can help to avoid decay or periodontal disease and the requirement for additional crowns later on.
Devoted to your excellent oral health, DentalWorks - High Point provides treatments for men and women in High Point, NC featuring the most up-to-date dental procedures, including dental crowns. Men and women who need a crown can feel comfortable knowing they have choices that adhere to their aesthetic needs and budget. If you have been considering a dental crown and would like to learn more about this advanced procedure, we encourage you to call or schedule an appointment with DentalWorks - High Point today.