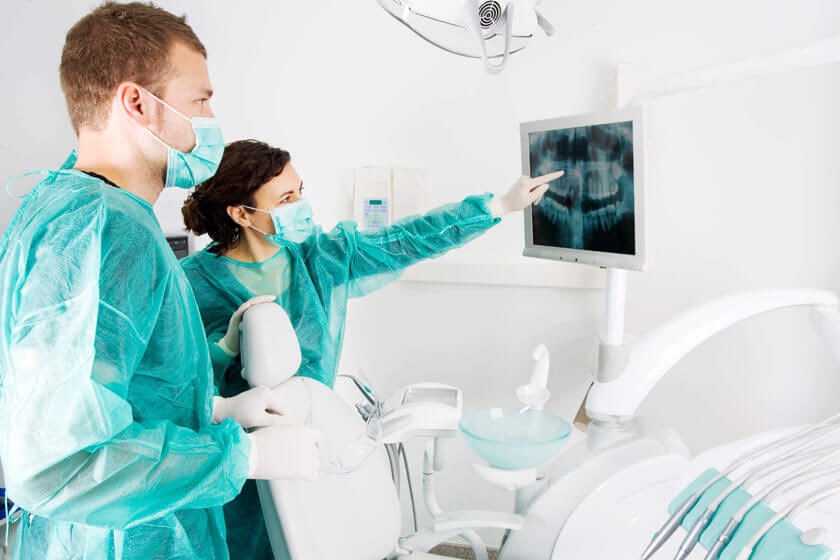 I'D RATHER GET A ROOT CANAL THAN…
When is the last time you heard the phrase, "I'd rather get a root canal?" Synonymous with something painful and unpleasant, root canals have gotten a bad rep over the years. Sure, it's not something you should want, but modern techniques and advanced equipment along with sedation dentistry make root canal therapy much quicker and easier. If you're avoiding the dentist even though you have severe tooth pain or signs of an infection for fear of being told you need a root canal, you might need to learn more about the modern root canal so you feel more comfortable contacting your dental practice in High Point, NC to schedule an appointment. Our team of dental professionals at DentalWorks - High Point understands you may be feeling uneasy about the possibility of a root canal. It is our number one goal to make you feel at ease with the therapy process so we can address your tooth pain and restore your oral health. If you think you may need a root canal, read below to find answers to the top questions you may not know about root canal therapy.
WHY WOULD I NEED A ROOT CANAL?
The road to a root canal starts with a simple dental cavity. This decay in the exterior portion of a tooth can be easily treated with a tooth-colored filling. However, if you aren't going to the dentist as often as you should or you delayed treatment, the decay may spread from your enamel to the interior portion of the tooth. If the soft pulp inside your tooth gets infected, you will need a root canal to clean it out. While you may not be thrilled with the idea of getting a root canal, this very effective therapy can save the tooth. Without proper treatment, the infection could turn into a tooth abscess or spread to your jawbone, gums, and bloodstream, which may require a tooth extraction and other treatments. In the end, a root canal is much easier and less expensive than having to have the tooth extracted or letting the infection spread further.
WHAT ARE SIGNS THAT I MIGHT NEED A ROOT CANAL?
When an infection reaches the pulp of your tooth, you may notice that your teeth are more temperature sensitive, so it's painful to drink hot coffee or eat cold ice cream. Other symptoms include a chronic pain or ache in the affected tooth, swelling in the gum tissue around the tooth, and a change in the color of the tooth. If you notice any of these symptoms, you should schedule an appointment with your dentist right away for an oral health examination. Your dentist will use digital x-rays and other diagnostic tools to determine if the pulp is infected and the extent of your condition. Once you have been diagnosed, your dentist will discuss your treatment plan, which may include a root canal or extraction.
WHAT DOES THE PROCEDURE INVOLVE?
After local anesthesia has been administered to numb the gum tissue around the affected tooth along with any other needed form of sedation, your dentist can begin your root canal. The decay will first be removed from the enamel before a small hole is made to allow access to the inner chamber of the tooth. The infected pulp will be removed and then the chamber will be rinsed and disinfected before a special material is used to fill and seal the empty tooth. In most cases, a dental crown will be placed over the treated tooth for strength and protection. At DentalWorks - High Point, we use custom-made crowns that will blend with the shape and color of your surrounding teeth so your smile looks seamless.
WHAT SHOULD I EXPECT AFTER THE TREATMENT?
Immediately after your root canal therapy, your mouth will probably feel a little sore and swollen, so you should plan to go home and rest for the remainder of the day. Your dentist may prescribe antibiotics or pain medication to help during your recovery. It's important to get back to your oral hygiene routine right away to keep your mouth clean and avoid future infections, but you'll want to brush and floss carefully around the treated tooth for a few days. For food, you may want to stick to liquids (like protein shakes and smoothies) or soft foods (oatmeal, eggs, bananas, and avocados) at a mild temperature (not too hot, not too cold, but just right) for the first few days after your root canal therapy. Avoid hard and sticky foods like taffy, gum, and ice cubes since these can damage or pull off the crown covering the treated tooth. Continue visiting your dentist in High Point, NC at least twice a year for professional cleanings and oral health exams so they can assess the condition of your tooth after a root canal and determine when the crown needs to be repaired or replaced.
WILL I NEED ANOTHER ROOT CANAL?
When properly performed, a root canal should be successful at removing the infection and saving the tooth. With good oral care, you should be able to use the treated tooth for a long time. However, a crack in your tooth or other factors can re-infect the tooth. If this happens, a second root canal (also known as an endodontic retreatment) may be needed. This is why it's important to follow all aftercare instructions from your dentist after your root canal so your mouth heals properly. You should also continue to go to appointments two times a year so your dentist can check for reinfection and other oral health problems.
WHAT IF I HAVE DENTOPHOBIA?
Without treatment, an infected tooth can become very painful. If you're torn between suffering from the pain in your tooth and the fear you have of going to the dentist (dentophobia) to get it treated, we have good news — you don't have to suffer pain or wrestle with dental phobias through sedation methods. DentalWorks - High Point offers many different types and levels of sedation dentistry to make sure you remain calm and comfortable during your root canal therapy. Nitrous oxide gas or oral-conscious medication might be combined with IV sedation based on your procedure and personal needs. And once your root canal is complete, ask about getting sedation during your regular visits. We work with High Point, NC patients to help make it easier for them to come in for bi-annual professional cleanings and annual oral health examinations so problems can be treated or prevented before they require a more serious procedure, like a root canal.
DON'T FEAR THE ROOT CANAL
Though you may not want a root canal, it can save your oral health to get one. If you have any symptoms of an infected tooth, schedule an oral health examination and consultation with a dentist in High Point, NC. If you have dental fears or anxiety, DentalWorks - High Point offers different types of sedation dentistry to keep you calm and relaxed during your examination and root canal therapy. We use state-of-the-art equipment and modern techniques when performing root canals to remove the infection, preserve your tooth, and save your smile.