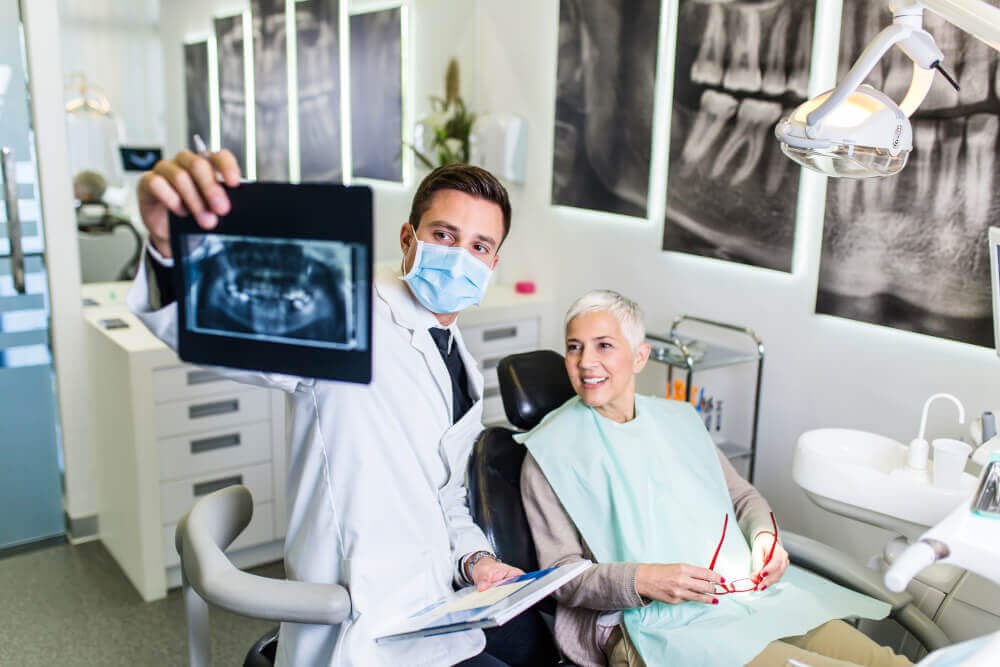 AN INTRODUCTION TO ROOT CANAL THERAPY
Even if you don't know exactly what a root canal is, you probably don't want one. Root canals have become synonymous with pain; however, modern root canals are faster, more effective, and thanks to sedation options, you don't have to worry about lots of pain. There's still a lot of mystery about root canals – What are they? Who needs them? What do they fix? Learn more about the basics of root canal therapy in this article and contact a board-certified dentist in High Point, NC to schedule an oral health examination.
WHAT A ROOT CANAL TREATS
Each of your teeth is made up of the crown (the portion of your tooth visible over the gumline) and the roots (the tips of your tooth connected to your jawbone and held in place by your gums). The enamel is the hard exterior of your teeth that protects the interior pulp (blood vessels, nerves, and soft tissue). When the enamel is damaged, it allows bacteria to reach the pulp. When your tooth becomes infected (also called a dental abscess), a root canal is needed to clean out the infection. Without a root canal, the infection can destroy the tooth and spread to your gums, jawbone, and other teeth.
WHAT CAUSES A TOOTH INFECTION?
CRACKED TOOTH
A cracked tooth should be treated as soon as possible with a filling or crown. A crack allows irritants and bacteria to reach and infect the pulp.
UNTREATED CAVITY
A cavity is caused by bacteria, which erodes your enamel. If a cavity is not treated with a filling or crown, the erosion and infection can reach the pulp of your tooth.
CHIPPED TOOTH
Even though a chipped tooth doesn't look bad or cause you any pain, it still needs to be checked. A chip weakens the enamel and can expose the interior of your tooth to infection.
SIGNS YOU MIGHT NEED A ROOT CANAL
TOOTH PAIN
Persistent pain in one or more of your teeth is a sign of an abscess. This usually gets worse when you try to chew.
TOOTHACHE
Either a sharp or dull toothache can be a symptom of an infected tooth. You should schedule an appointment with your dentist in High Point, NC as soon as possible if you have a toothache.
EXTRA SENSITIVE TEETH
Many people have temporary sensitivity in their teeth to hot or cold foods and drinks, but if it does not go away, it may be a symptom of a tooth infection. The hole in your enamel that started the infection allows air and other irritants to hit the dental nerves inside your tooth.
GUM INFLAMMATION
The gum tissue around an infected tooth may appear swollen and red. This indicates that the infection may be spreading to your gums and jawbone.
FACE AND NECK SWELLING
When your body is fighting an infection, the lymph nodes in your neck become swollen. If the infection is spreading beyond your tooth, you may also notice some swelling in your lower face.
LOW-GRADE FEVER
A common response to any infection in your body is a fever. An infected tooth can cause a low-grade fever.
CHRONIC HALITOSIS
Bad breath that doesn't go away after you brush your teeth is a sign of a dental abscess. The bacteria inside your tooth causes a foul odor that will not disappear until the infection is treated.
BEFORE YOUR ROOT CANAL
If you have symptoms of an infected tooth, schedule an oral health examination and consultation with your board-certified dentist in High Point, NC. Tell them about your concerns and how long you have had symptoms. Your dentist may use digital x-rays, perform a manual inspection, and use other tools to diagnose your problem. If you do have an abscessed tooth, your dentist may recommend a root canal procedure. At DentalWorks - High Point, we offer many sedation methods, like nitrous oxide gas and oral-conscious sedation, to keep you calm and comfortable during your procedure. These options should be discussed before you schedule your appointment so you will know if you can drive after your procedure.
GETTING A ROOT CANAL
On the day of your scheduled root canal, you will be taken to a treatment room where your dental team will help you lay back and get comfortable. If you were prescribed an oral-conscious medication, this should start to go into effect. Patients receiving nitrous oxide gas will have a small hood placed over their nose, so they can start to relax. The infected tooth and surrounding area will be numbed with a local anesthetic and a dental dam will be used to keep the tooth clean and dry throughout the procedure. To begin your root canal, any infected enamel will be cleaned from the exterior of the tooth. After this, your dentist will remove the pulp, then they will clean out and disinfect the interior of the tooth. The tooth will now be filled with a special compound made of sealant and rubber paste. Once the tooth is sealed, your dentist will typically place a dental crown over it for strength and protection.
AFTER YOUR ROOT CANAL
After a root canal, you should plan to go home and take it easy for at least the remainder of the day. Your mouth may feel a little sore and sensitive, so many patients prefer a liquid or soft foods diet. You should keep your mouth clean with gentle brushing and rinsing with mouthwash. Your dentist may prescribe antibiotics, anti-inflammatories, and/or pain medication to help your recovery. Your dentist will probably ask you to schedule a follow-up appointment so they can check the health of your tooth and place your custom crown.
AVOIDING A ROOT CANAL
The best thing you can do to avoid needing a root canal is schedule appointments at your dentist in High Point, NC at least twice a year for an oral health examination and professional cleaning. During exams and cleanings, your dental team will check for issues like cavities and chipped or cracked teeth that can lead to an infection. By treating the smaller issue, you can avoid an infection, which will require a root canal. You should also make sure you are brushing and flossing your teeth correctly twice a day at home. If you need advice on proper home oral hygiene or you'd like to schedule an appointment for an exam and cleaning, contact DentalWorks - High Point. Our friendly team is happy to help you improve the health and appearance of your smile so we don't have to perform a root canal or other procedure.