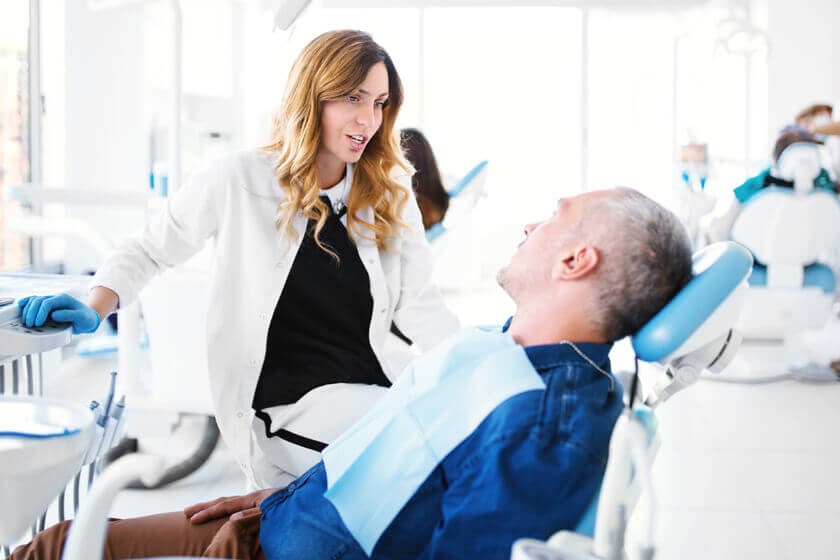 LEARN MORE BENEFICIAL FACTS ABOUT IV SEDATION FOR DENTISTRY
When you think of sedation used at a dental practice, your first thought tends to be laughing gas. Even though nitrous oxide gas (popularly called laughing gas) is typically utilized during dental procedures, there are alternatives available depending on your unique needs and the services you're having done. For men, women, teens, and children who have extreme dental worries, or if you're about to receive an invasive procedure, your dental practitioner can recommend IV sedation. Intravenous sedation (or IV sedation) distributes the solution directly into your veins during the appointment. To aid men and women in High Point, NC who are receiving more lengthy or invasive oral surgeries, including those who deal with a serious fear of the dentist, intravenous sedation will likely be a good alternative to keep you relaxed during your visit. Throughout this post, our dental practitioners at DentalWorks - High Point aim to discuss if you're a potential candidate for intravenous sedation and list out circumstances when IV sedation is generally used, including what to expect.
WHO IS A GOOD CANDIDATE FOR IV SEDATION?
An individual must have good total health to be a candidate for IV sedation. Our dentist in High Point, NC will ask about your medical history, all current conditions, and what medicines and vitamins you are taking currently prior to providing you with IV sedation. These facts will help us determine whether you are able to receive IV sedation, as well as the type of medicine and dosage they will use. Patients should tell their dental professional if they have previously had any allergic responses to certain drugs or anesthesia. As intravenous sedation includes implementing a needle to introduce the drug right into your vein, it's advised that you don't harbor fears related to needles. It's important to be straightforward with your dental professional all through your consultation so they can determine if you could be a qualified candidate for IV sedation.
THE BEST SITUATIONS FOR INTRAVENOUS SEDATION
Intravenous sedation is frequently used for three purposes — to help people with serious dental worries, to keep individuals relaxed during extensive procedures, and to help men and women with a low pain threshold or a powerful gag reflex.
For those who experience significant dentophobia (the fear of seeing the dentist), you can potentially be eligible for IV sedation. Individuals who have a minor fear level could be better suited to a milder kind of sedation, such as laughing gas or oral-conscious options. For those who have dentophobia caused by a bad previous visit or a different reason, but you also want a preventive procedure or wish to improve your oral wellness, schedule an appointment at DentalWorks - High Point to discuss your numerous options. Our knowledgeable dentists will help you learn if intravenous sedation is adequate for your unique needs.
For those who have a powerful gag reflex or low tolerance for pain, IV sedation could be helpful for bi-annual cleanings and simple treatments. Relaxing comfortably in a treatment room can be attainable if there's an option to enable you to resist the need to gag. Intravenous sedation may be helpful to help you through routine dental cleanings or simple treatments, including a filling or SRP for early-stage gum disease.
Throughout more lengthy appointments, IV sedation might aid in keeping patients relaxed. IV sedation is typically used during surgical tooth removals and dental implant procedures. Periodontal surgery to treat late-stage gingivitis might also require IV sedation since incisions are placed into the gum tissue to reach deeper areas.
THE FACTS YOU SHOULD KNOW PRIOR TO YOUR TREATMENT SESSION
At your appointment, your dentist will typically discuss how you can make preparations for IV sedation, which could consist of not consuming food or drinks for a few hours prior to your consultation. Depending on your individual case, you may additionally need to quit taking particular prescription or nonprescription drugs before you can receive IV sedation to avoid an unwanted interaction. As soon as you are reclining calmly in a treatment chair, a needle is situated into your vein. From there, we will deliver the medication straight into your bloodstream. Intravenous sedation will become effective fairly quickly. The amount may be altered during your treatment depending on your needs. Local anesthesia could also be utilized to numb a targeted area inside of your mouth before our dental professional begins your treatment. Depending on the dosage of IV sedation administered, you may be awake and able to follow easy instructions. However, you will probably not remember what happened during your operation. Once your procedure has concluded, the medicine will be turned off, and you will return to normal. Patients usually feel drowsy initially, but they should begin to regain consciousness immediately, as well as converse and move normally.
WHAT COMES ABOUT FOLLOWING A SURGERY USING INTRAVENOUS SEDATION?
After your operation, you should arrange for a friend or family member to give you a ride home since you may not be allowed to drive. Additionally, we will advise you to relax and heal for at least the remaining part of the day. The sedative and its effects will most likely disappear over the course of a night, but be cautious as you perform tasks the next day, specifically driving. The dentist will explain any post-op tips if you received oral surgery. We will also go over how to care for your incisions and how to keep your mouth clean. We encourage you to contact our office in High Point, NC if you come across any concerns following your IV sedation procedure.
OVERCOME YOUR FEAR OF GOING TO THE DENTIST WHEN YOU RECEIVE IV SEDATION
When IV sedation sounds like it can be a reliable option for your situation, it's vital to choose a practice in High Point, NC who is knowledgeable and fit to administer this valuable element. If administered by a knowledgeable dentist to a good candidate, IV sedation may even help with serious dental anxieties and keep patients calm during various treatments. For those who are interested in discovering more about various sedation alternatives, we advise you to call DentalWorks - High Point to go over your individual needs during a consultation with our knowledgeable dental team.